Article:

Selection, support and development of DB's suppliers.
Our supplier management makes procurement a strategic competition factor. Together with reliable partners, we implement a standardised regulating process to safeguard our high quality standards. This is how we optimise our supplier pool.
The principles of our Supplier Management
Suppliers are our partners in safeguarding group's success. The supplies and services provided by suppliers form the start of the supply chain - and are a crucial factor in DB's competitiveness. Our Supplier Management applies throughout the entire company and is anchored in the leading IT systems of the DB Group.
Our Supplier Management targets
In the medium and long term, the on-going development of our supplier portfolio optimises the security of supply, cost levels and process efficiency in the DB Group. The targets are clearly defined and visualised in the regulating process.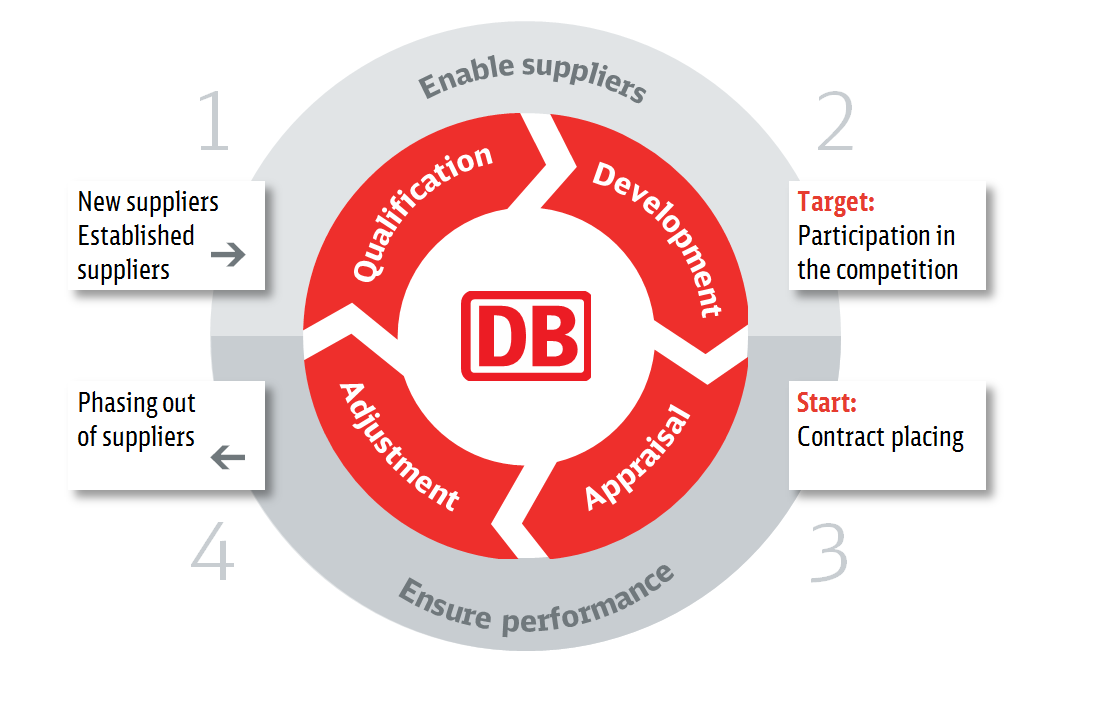 The Supplier Management process consists of four phases on a continuous, recurrent basis:
Supplier Qualification

Who fits in with us? In a first step, we include suitable suppliers according to defined minimum standards in the pool of potential DB contract partners. This accelerates the award process at many points. In this phase, we also create the principles for the future development of the qualified supplier.

End of expander content
Supplier Development

Suppliers that do not yet meet the qualification requirements can arrange individual development measures with us independently of a contract award. The goal of these measures is to expand potential and minimize risk to ensure participation in the competition.

End of expander content
Supplier Appraisal

Who lives up to their promise? The supplier appraisal process is carried out according to standard criteria and influences the decisions regarding supplier development. All appraisal results are documented with reference to the specific transaction and provide information about the qualification of a supplier as DB partner.

End of expander content
Supplier Adjustment

This is how things continue! Supplier Adjustment aims to enhance the quality of suppliers.

Based on the rating, we then apply one of four strategies: Commit to the supplier long-term, cultivate and strengthen, adjust, or phase out. We agree on individual measures with the supplier and follow up on implementation. The voluntary process is based on a partnership and on contract award policies. We believe in continuous development for existing and new suppliers alike to optimize the quality and quantity of our supplier pool. 

End of expander content