Article:

Deutsche Bahn Digital Ventures
Investing in digital mobility: from ridesharing to the address system
Deutsche Bahn Digital Ventures funds and develops new data-driven business models. Alongside the technological focus on big data, artificial intelligence (AI) and the Internet of Things (IoT), the main emphasis is on the transformative energy that entrepreneurs and technology partners bring to the market and their ability to establish forward-looking customer solutions on a broad front in three key fields: mobility, logistics and smart cities.
Boris Kühn, one of the two managing directors of DB Digital Ventures:
We're all about investing in innovations that could be key technologies for mobility and logistics in the future.
Startups not only receive venture capital; they also get access to experts, data, customers and markets. In other words, the DB Group's entire network.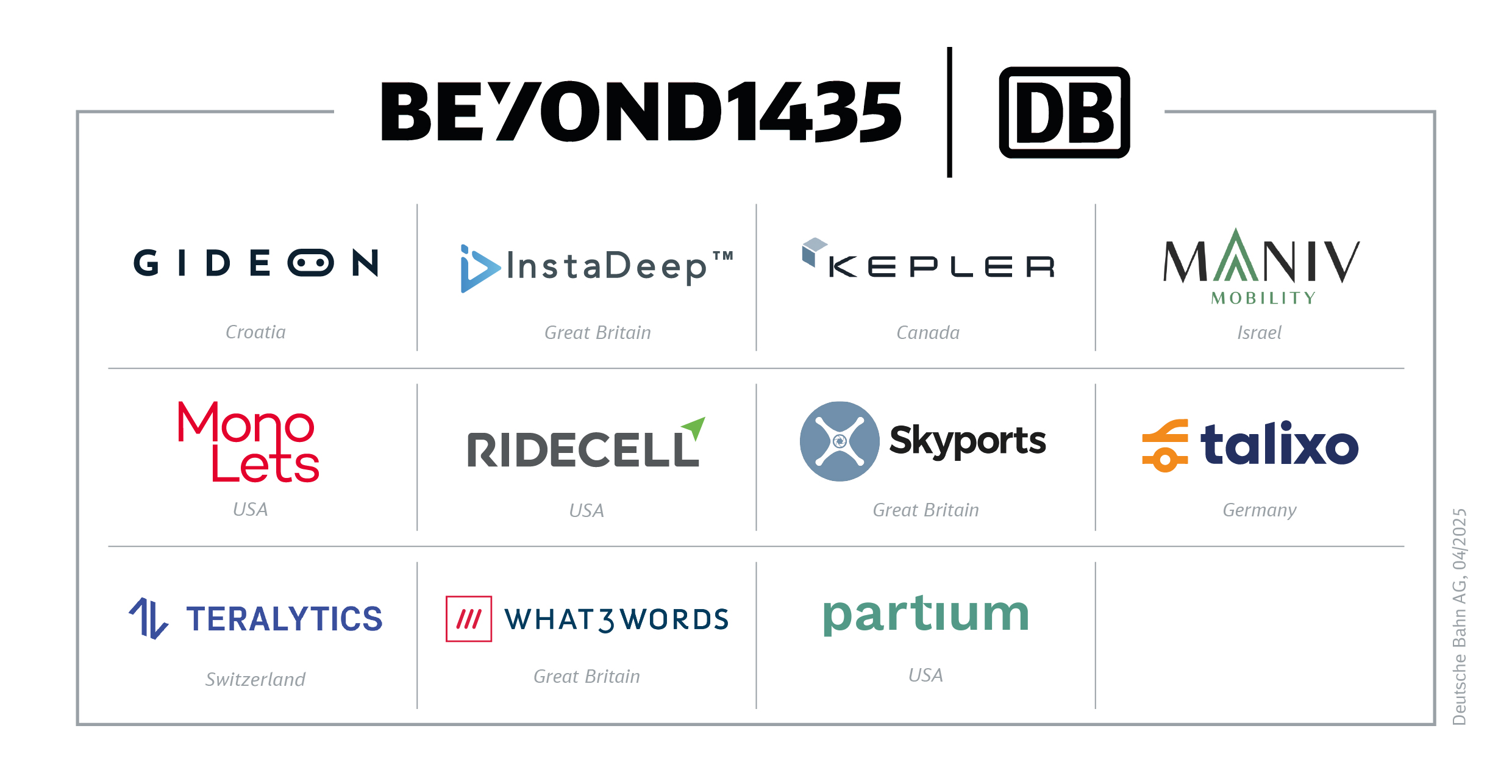 Gideon Brothers

Gideon Brothers develops AI-controlled robots for autonomous deployment with a proprietary vision and navigation software. The driverless transport systems use 3D-sensors and AI to avoid collisions and to calculate alternative routing. Thanks to the unique environmental perception the robots can be used safely in different settings. DB has acquired a stake in the Croatian company as part of a development partnership. Over the course of a two-year pilot project, autonomous robots will be adapted to DB-specific requirements and tested in vehicle maintenance depots.
Kepler

Kepler Communications, a Canadian startup, wants to use a satellite network to make the Internet of Things available worldwide, Kepler plans to launch 140 small satellites, which are about the size of a lunch box, into low earth orbit. Its IoT solution will enable global positioning and allow transmission of data, such as information about the condition of freight being transported through multiple countries by train or truck. Beginning in 2022 Kepler's satellites will allow containers that are in transport to communicate almost in real time via sensors. The benefits for logistics customers include higher quality along the supply chain and seamless consignment tracking, even in areas where there is no cellular network.
MANIV mobility

Deutsche Bahn Digital Ventures DB DV is investing in the second US-Israeli venture capital fund managed by MANIV Mobility. This is the tenth investment made by DB DV, and the first to be made in a fund.

MANIV is an Israeli venture capital fund based in the USA and Israel that invests exclusively in innovative young start-ups in the mobility sector.

MANIV has a global network and enjoys an excellent reputation internationally. MANIV boasts numerous prominent investors, including Alliance Ventures, Renault–Nissan–Mitsubishi's Venture Capital Company, and BMW i Ventures, the BMW Group's venture capital subsidiary.

In addition to financial aspects, DB's participation in MANIV is focused on establishing a partnership that puts DB in contact with relevant start-ups in the mobility and transport sector at an early stage. The partnership with MANIV helps DB DV continue to expand its activities in the USA market while paving the way for relationships with Israeli start-ups.

 MANIV's portfolio is focused on funds, including specialists for autonomous driving systems such as drive.ai., cloud-based market specialists for vehicle data, such as Otonomo, and the on-demand mobility platform Ridecell, in which DB DV is also a direct investor.
MonoLets

IoT sensors are revolutionizing spare parts warehousing in vehicle maintenance. And Deutsche Bahn has invested in the Californian start-up MonoLets for this reason. MonoLets is developing a wireless sensor network for high-precision real-time geolocation as a platform for the Internet of Things. A digital ID can be used to determine the availability, exact location and condition of spare parts at any time. Retrofitting with smart sensors is especially important for older spare parts. The goal of real-time geolocation for spare parts is to reduce the time and effort needed to locate and scan parts and to improve spare parts management with predictive analytics.

Founded in 2017 as a spin-off from the University of California, Berkeley, MonoLets works with prominent partners in the logistics sector and holds patents for its 3D-printed chip design and wireless gateway network. MonoLets is the twelfth start-up Deutsche Bahn has invested in through this fund.
Ridecell

Fleet IoT Automation platform provider Ridecell brings digital transformation to fleet-driven businesses

Ridecell Inc. is leading the way in the digital transformation of fleet businesses and operations. The Ridecell Fleet IoT (Internet of Things) Automation solutions modernize and monetize fleets by combining data insights with digital vehicle control to turn today's manual processes into automated workflows. The result is unmatched levels of efficiency and control for shared services, motorpools, rental, and logistic fleets.

Headquartered in San Francisco, RideCell was established in 2009 and employs experts in the United States, Europe, Asia and Australia. By investing in RideCell, DB can offer all of the ways to use car fleets – rental, ride hailing, carpooling and carsharing – on a single platform. This increases the capacity utilization of fleets and allows cars to be better distributed based on customers' needs.
Skyports

DB Digital Ventures, Deutsche Bahn's vehicle for fostering new digital business models, is investing in Skyports. The young UK company intends to grow the industry for transporting goods and passengers using innovative aerial devices. DB aims to explore the vast potential that drone technology has for its customers.

The company was founded in 2017 in London, where it develops and operates landing sites for aircraft. Additionally, Skyports' services touch on all aspects of innovative air transport, including arranging charging infrastructure and passenger handling as well as advising on legal and safety issues.

On a test field in the German city of Ingolstadt, DB has already been researching how to improve drone technology as part of Urban Air Mobility, a model project sponsored by the EU. Since the project began in 2015, DB has been sending multicopters soaring on a regular basis to explore possibilities such as managing vegetation along railway lines and inspecting bridges and other structures.
Talixo

Talixo, which was established in Berlin in 2012, connects passengers and vehicles in a new way through a smart booking platform. Depending on where you are in the world, taxi and carpooling services are organized differently and their availability varies, making billing complicated, with multiple different components, Talixo makes things easier for customers by pooling taxi and car services. It makes booking a taxi or car service around the world as easy as it is to book a hotel or flight. The platform already offers last-mile mobility in more than 1,000 cities in 130 countries. Talixo ensures the same high standards for quality and safety around the world. A single system is used for booking and billing.
Teralytics

DB Digital Ventures is investing in Teralytics. Based on mobile data, the Swiss startup delivers reliable information on general traffic patterns, which can be used to analyze passenger demand. The data is available exclusively in aggregated and non-personalized form in accordance with European privacy regulations. DB believes that the mobility analyses offer far-reaching potential for the company to expand its product portfolio in line with customer needs.

The company's goal is to reach 260 million long-distance passengers, double current figures. In local service, the Group aims to win a billion additional customers. Integral to reaching this goal are predictive systems that serve to answer questions such as the following: How is demand developing, and where? What should last-mile train services and mobility look like? Teralytics analyses will be used to take a surgical approach to stepping up capacity in those areas where the need is most pressing.
what3words

Founded in 2013, the British company what3words has overlaid the globe with a grid consisting of 57 billion squares, each measuring 3x3 meters. Unique three-word addresses are assigned to the coordinates of each of these squares. what3words provides a precise and convenient way to communicate and find locations. It gives every location in the world an address, even locations without a physical street address or postal code. Courier services in Europe and the United States already use what3words to deliver goods faster and accurately. Deutsche Bahn hopes to use what3words in logistics as well. DB also sees a lot of potential in developing autonomous vehicle fleets for public mobility since what3words enables precise navigation.

The corporate headquarters of Deutsche Bahn at Potsdamer Platz in Berlin is the first corporate building in Germany with a what3words address. DB CEO Richard Lutz and what3words CCO Clare Jones unveiled a logo with its german three-word address – "lebendig.webseiten.auflösen" (roughly translated as "vibrant.websites.solve") – on August 28, 2017. The main BahnTower entrance is quick and easy to find using the three words.
InstaDeep

InstaDeep develops and sells custom AI solutions to optimize and automate systems which involve complex decision-making processes. For the rail, logistics, electronics and pharmaceutical industries, InstaDeep takes a platform approach using ready-to-use products. The company was founded in London in 2014 and has additional locations in Tunis and Paris. Many of the 160 employees hold doctorates with outstanding academic careers.

DB is working with InstaDeep on an AI-powered capacity and traffic management system (CTMS) which includes timetable and construction planning, real-time dispatching, alternative routing, and disruption management. Rapid AI-based decision-making improves train planning and capacity and reduces delays. 
brighter AI 

brighter AI develops state-of-the-art software anonymization solutions for privacy-compliant use of image and video data based on artificial intelligence.

brighter AI participated in the startup program at DB mindbox in 2019. The technology can be used in many of DB's business areas, as it enables data processing in compliance with data protection regulations. For example, the system will be used in camera-based seat recognition for better passenger distribution to further improve the passenger experience.