20. April 2020, 14:45 o'Clock
Berlin
Article:

New Management Board at DB Cargo: 50% women, more customer centric and on track for growth
Dr. Martina Niemann, Thorsten Dieter and Ralf-Günter Kloss appointed to Management Board • New board division established for service design
Rail freight operator DB Cargo is restructuring its Management Board to foster sustained growth and win over more customers for eco-friendly rail service. The changes will make DB Cargo the first business unit at the DB Group to have women account for half its Management Board members. The company is also laying important groundwork for the future by establishing a new board division for Service Design and Control. The Production Division will also have a new head, with the goal of building on recent improvements to make operations more stable and robust.
At its meeting today, the Supervisory Board of DB Cargo, Europe's largest rail freight company, gave the green light for far-reaching structural changes to the company's Management Board. "The decisions made today will set the course for growth at DB Cargo," said Dr. Richard Lutz, Chairman of the Supervisory Board of DB Cargo. "At this moment more than ever, rail freight transport is showing its potential and the key role it can play. Rail is vital to freight transport, and our goal now is to systematically expand its role." 
"We have a historic window of opportunity," said Dr. Sigrid Nikutta, DB Management Board Member for Freight Transport and CEO of DB Cargo. "Germany and Europe need a growing rail freight sector that offers a new level of strength." Increasing the percentage of women in leadership positions is one of the DB Group's express goals and an important objective for Dr. Nikutta. "Word has gotten around that diversity in top management is a key factor for success," she said.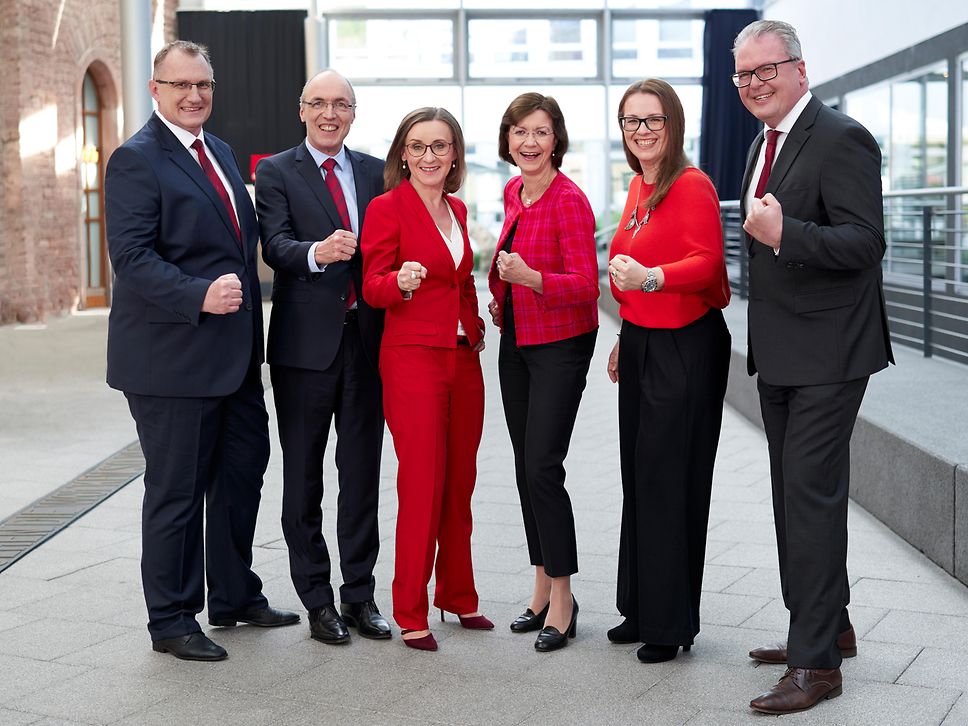 Dr. Nikutta's new six-member Management Board team will include three women, for a total of 50%. Dr. Martina Niemann will be a new addition to the Board, and Dr. Ursula Bienert, whose contract was extended for another five years, will continue to serve as Board Member for HR.
Dr. Martina Niemann is returning to DB as the new Management Board Member for Finance/Controlling at DB Cargo. Niemann has 25 years of management experience at Deutsche Bahn and other major corporations, and she most recently served at Lufthansa.
Starting July 1, 2020, Dr. Niemann will take over the Finance/Controlling Division from Matthias Reichel, who will take on other tasks within the DB Group. "Matthias Reichel has served as CFO for 11 years, making him the longest-serving member on the current DB Cargo Management Board," said Dr. Richard Lutz. "I would like to express my sincere thanks to Matthias Reichel for his work and the contribution he made to DB Cargo throughout his tenure. One of his important achievements was the successful integration of the DB Cargo subsidiaries in the UK and Spain into our network, and the effective preparation of those subsidiaries for the future."
Thorsten Dieter was also appointed to the DB Cargo Management Board. Starting May 1, 2020, he will take over as head of the new Service Design and Control Division. Dieter, an industrial engineer, has held management positions at DB Cargo for over 15 years, most recently as the head of the Service Design department. The aim of his newly created division is to develop fast, reliable and appealing service options for customers in Germany and abroad. The division will also work to make single wagonload transport a more attractive green alternative to road transport. 
The third new addition to the Management Board is Ralf-Günter Kloss, who will take over as the new head of Production, also starting on May 1, 2020. Kloss is currently the head of Cargo Management Region West and has over 20 years of experience in a variety of management positions at DB Cargo. He is currently working on improving production at DB Cargo to make operational processes more robust.
Marek Staszek, currently Board Member for Production, will be returning to his position as CEO of DB Cargo Polska. DB would like to thank him for the successes he achieved over the past year. Staszek helped DB Cargo achieve better punctuality in its freight transport service, and he launched initial measures for more stable production processes, which the company can now build on. The current head of DB Cargo Polska, Steffen Bobsien, will be returning to Frankfurt and Mainz, where, at the request of the Management Board, he will be assuming the role of Special Representative of the CEO for strategic investment and innovation projects.
Pierre Timmermans, originally from the Netherlands, will continue his work as Board Member for Sales at DB Cargo.