Article:

2021 ITS World Congress: Explore tomorrow's mobility today
The 27th ITS World Congress will take place in Hamburg on October 11-15. As Hamburg's Smart City partner, Deutsche Bahn will showcase its latest technology and innovations at the trade fair.
Deutsche Bahn is leading the way in the mobility revolution, and we have harnessed a wide range of digital innovations and technology to help us decarbonize transport. At this year's Intelligent Transport Systems fair, we will showcase smart services and projects connected with stations, mobility and urban logistics that all underscore a single point: Climate protection can only work if we are involved. The northern German city is the perfect location for this, and its local government is also one of our most important business partners and supporters.  
This year, Deutsche Bahn will be a sponsor of the ITS world congress, thereby reinforcing our Smart City partnership with the state of Hamburg. We have spent the past four years working together to develop ground-breaking usage concepts for stations, rethinking the station in its setting, and creating new networks of sustainable mobility offerings. Our joint objective is to make Hamburg even more environmentally friendly and livable while at the same time increasing the appeal of mass transit.  
While we plan to use our trade fair stand and several panels to present our products and offerings, we won't be restricted to these. Instead, we also want to show our ideas to the city's inhabitants by using a range of locations around Hamburg. You can click the interactive map to find out more. 
Hamburg's mass transit system is getting a digital boost, and we will use one of the first journeys of the Digital S-Bahn Hamburg as an opportunity to unveil the technology used for ultra-automated suburban rail operation. It enables trains to run at close intervals and ensures the system is extremely reliable. 
Show at the station: FLONSKE, winners of our Flinkster-themed talent show from 2019, will take to the stage at the station in the suburb of Bergedorf on October 13-14 as a way of advertising that the general public can visit the trade fair on October 14. Hailing from Berlin, the band will perform a free gig outdoors at the station. Everyone is invited!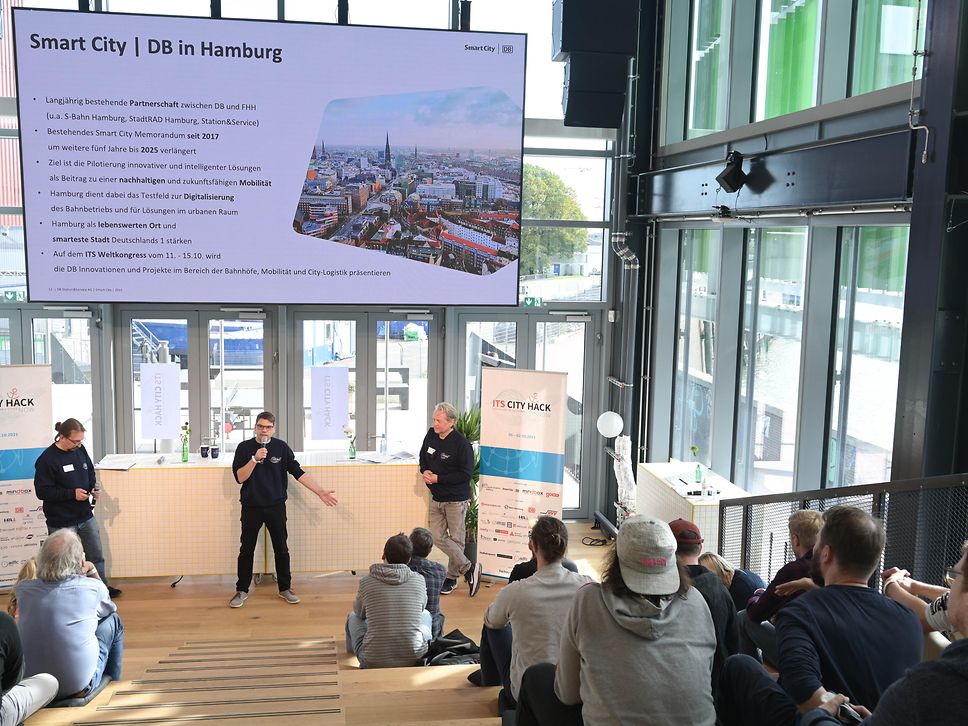 The fifth ITS City Hackathon took place from October 1-2 and saw us invite hackers from all over Germany to the Factory Hammerbrooklyn venue. There, the hackers worked together on creating sustainable solutions for towns and cities – and for their residents too. Selected teams will have the chance to present their pitches at the ITS Congress on October 12. ITS City Hack - Hamburg 2021
Workshop with the young people at the station Hamburg-Harburg. Together with the Kunstverein, young people between 10 and 17 can code their own laser show on October 11 and 12. You spend four joint workshops at the station Hamburg-Harburg with the final laser show on Friday October 15. directly on one of the platforms. Code Week 2021
The congress will also host a large number of panel discussions and other fascinating debates featuring representatives from DB. These talks will focus on issues such as how to develop successful mobility-as-a-service platforms in the future and how multimodal solutions will help strengthen mass transit services. Take a look at our events calendar to find out more. 
DB Station&Service AG

As Germany's biggest host we're making our stations places where people enjoy spending time. At Hamburg Dammtor for instance, our gate to the ITS world congress, we implemented a number of projects so that our guests feel even more welcome. These include new information displays for better orientation or the artistic redesign of the historical vitrines, as well as a light installation on the train platform. Additionally, there will also be new seating furniture on the platforms by the end of the year. Beyond that we support the climate-friendly combination of train and bike. Getting on the bike is always worth it thanks to the DB Rad+ app. In cooperation with the city of Hamburg and within the Bike+Ride program we are creating new bicycle parking spots at stations.
Smart City | DB

Smart City | DB offers cities sustainable alternatives for the intelligent connection of transport infrastructure, mobility and logistics. Its products provide city dwellers with individual mobility and logistics solutions along their daily route. The various offerings complement existing infrastructures and strengthen stations and their surroundings in being centers of urban life.

The product portfolio of  Smart City | DB combines various concepts: from coworking spaces and smart lockers to mobility stations for e-scooters that help to ensure greater safety and order on forecourts, thus transforming train stations into places with high quality of stay and growing importance for networked and sustainable mobility and logistics services.
Digital Rail Germany - Digital Rail Germany Project - Digital S-Bahn Hamburg Project

Less traffic, less congestion, less particulate matter - but more people and more goods by rail: the rail sector is on the verge of a technological leap into the digital future. The sector initiative "Digital Rail Germany" is taking advantage of this opportunity and bringing future technologies to the rail system.

The "Digital S-Bahn Hamburg" project is based on a cooperation agreement between the Free and Hanseatic City of Hamburg, Siemens Mobility and Deutsche Bahn. It includes two focal points: For the first time in Germany, four trains of the S21 line will roll highly automated on a 23-kilometre route between the stations Berliner Tor and Bergedorf/Aumühle. The staging of the four trains will again be fully automated when the S-Bahn trains move into the sidings or to the platform at Bergedorf station.
Digital Rail Germany - Sensors4Rail project

In the Sensors4Rail (S4R) cooperation project, DB and its partners Siemens Mobility, Bosch Engineering, ibeo automotive and HERE Technologies have equipped a Hamburg S-Bahn train with state-of-the-art sensor technology. The 14 "eyes of the train" collect information about the train's surroundings using radar, lidar and camera systems. The comparison of the sensor information with a digital map also allows the precise location of the vehicle. Based on this data, trains could be optimally controlled in the future and, for example, travel at shorter intervals. This could increase the capacity of the network.

At the ITS World Congress, the project can be experienced in actual train operation during special trips on the "Future Rail Experience Tour". Demonstration journeys will take place several times a day on the S-Bahn line S21 between the stations Bergedorf and Hamburg Dammtor from 12 to 15 October. By means of an animation shown on the train, visitors to the fair will be able to see the sensor technology "live at work" and follow what the digital eyes of the train perceive. This live animation of the train journey will also be streamed to the DB trade fair stand so that other trade fair visitors can see the new technologies in action. Experts from Digital Rail Germany will moderate the live streams both on the train and at the trade fair stand and answer any questions that arise. For all those who cannot make it to the trade fair, an additional broadcast of the live animation will be offered on LinkedIn on Tuesday, 12 October.
Digital customer experience

This is what the future feels like: The innovative S-Bahn Hamburg idea train impresses with extras that can be felt and experienced and one of the most modern passenger information systems in Europe. On a total of 18 colour LED displays above the doors, in the windows and in the ceiling, passengers are informed in real time about their journey, connections and disruptions. Seating lounges for up to five people offer more space and comfort in the completely redesigned passenger interior. Upholstered standing lounges for short journeys and groups of up to three people as well as a co-working area with a work counter, comfortable standing supports and USB hubs make the journey a real experience.

The S-Bahn Hamburg idea train is located in the middle carriage of a class 474 S-Bahn of the "Digital S-Bahn Hamburg". In future, new product innovations will be tested and further developed in this rolling vehicle laboratory together with Hamburg's passengers.
IdeenzugCity

Over the coming years, the demand for mobility will continue to increase steeply in major urban areas and, at the same time, passengers will expect more in terms of comfort and sustainability.

With the IdeenzugCity, various themed worlds have been implemented specifically for the metropolitan transport of the future, which combine quality of stay and a feel-good atmosphere with more capacity and can be experienced in a fully functional 1:1 model.

At the DB stand, you will get exclusive virtual insights into the IdeenzugCity and our experts on site look forward to exchanging with you.
Mobimeo – Changing the way cities move

Mobimeo GmbH (Mobimeo) develops a Mobility-as-a-Service (MaaS) platform for the mobility of tomorrow. As a partner of transport companies, transport associations and other mobility providers, Mobimeo connects existing public transport systems, sharing and on-demand options. For mobility providers, Mobimeo offers high-performance technical products: apps built on Mobimeo's platform impress with their elegant design, their intuitive route search, booking and payment functions and continuous journey progress information. They offer users multimodal, personalised and event-driven suggestions to find the best possible route to their destination. The result is a relaxed and enjoyable travel experience for millions of public transport users – without dependence on private cars.
ioki – inspiring smart mobility

ioki is a full-service provider for digital mobility and offers public transport authorities and (transport) companies the multimodal integration of new forms of mobility - whether for driver-based or autonomous transport. The range of services extends from data-based mobility analytics to the optimisation and digitalisation of transport services to their operational implementation together with strong partners from the mobility sector.
DB Connect

For 20 years, DB Connect has been advancing new mobility solutions on the road by providing sustainable mobility for the first and last mile and practical solutions supplementing public transport. As a provider of sharing mobility solutions and innovative apps, DB Connect serves as a strong partner to cities, municipalities and companies in the effort to decarbonise transport.

Bonvoyo is Deutsche Bahn's mobility budget. Companies use Bonvoyo to reduce their carbon footprint and offer an innovative alternative or supplement to the traditional company car.
With Call a Bike, DB offers bike sharing solutions tailored to the needs of municipalities. Customers can lend bikes in more than 80 cities throughout Germany.
Flinkster's Germany-wide network offers car sharing throughout the city and railway stations. About 30 local partners add their vehicles to the Flinkster network, contributing to provide schedulable and reliable mobility options for residents and travellers.
DB Curbside Management aggregates location data from mobility service providers in a map view, thus enabling municipal administrations to monitor and understand urban traffic. On that basis, they can set digital rules for the use of public space and send those rules to providers automatically.

www.deutschebahnconnect.com/en
Rad+ App

Paying with pedals – that's how it works:

the DB Rad+ app, you can collect valuable kilometers in Hamburg, which you can convert into attractive discounts and rewards at exclusive partners. Simply install the DB Rad+ app and activate it in the campaign area as soon as you are on the road with your own or a rented bike. Without registration, without stress!
Railways for the world of tomorrow.

DB Engineering & Consulting offers technically high-quality and customized infrastructure, mobility and transport solutions. Deutsche Bahn's expertise is in high demand all around the world. DB Engineering & Consulting offers that knowledge – starting with an idea and continuing all the way to operations.

Some 5,200 specialists and generalists from 84 nations across all engineering disciplines develop and implement solutions which meet our customers' needs and connect people and markets around the world –in Germany and worldwide.