Article:

Shapers of the future under one roof
DB Digital Base: uniting a major corporation and new work
Walking the board instead of regular meetings, design thinking workshops, and self-organizing – the way we work is changing. Organizations need to be flexible and be able to react quickly to ever evolving customer and market requirements. Where we work has changed as well. Offices need to adapt to employees and their responsibilities and offer enough space for creativity and collaboration while still providing an environment where employees can focus. Within sight of DB's headquarters at Potsdamer Platz, the new DB Digital Base provides enough space on nine floors for innovative projects relating to the future of mobility.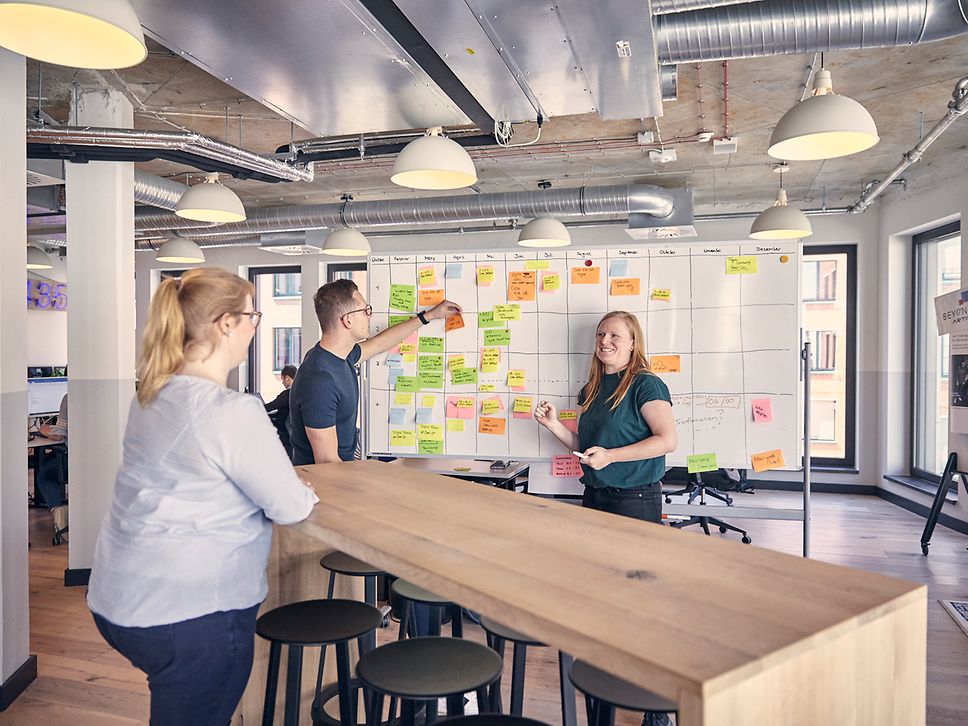 The future of rail, in-house entrepreneurship and air taxis
Around 250 employees involved in DB's digital business moved into the building run by WeWork, a coworking company, in late 2018. They work on projects such as the future of rail (through the Digital Rail for Germany program), help employees implement their business ideas (the DB Intrapreneurs program) and work on new forms of mobility, such as air taxis (new digital business). DB Digital Base is a single location that brings together employees who work on closely related issues but were previously spread out across different sites.
Digital Base at a glance
366 work stations, nine floors, 5,000 square meters of space
27 meeting rooms and two large event spaces
Location operated by WeWork, a coworking provider
Germany's first plastic-free WeWork site
250 DB employees working on digital business (Digital Rail for Germany, CDO organization and change management)
Flexible work stations for startups, entrepreneurs and DB employees
Frequent events on digitalization and new work